Tesla Floor Mats Vs. Weathertech (In-Depth Comparison)
You may wonder what the difference is between Tesla and WeatherTech floor mats. If you look under your Tesla floor mats, you might notice the Weathertech logo. 
Meaning most Tesla floor mats are manufactured by Weathertech. 
This article highlights the differences between Tesla and Weathertech floor mats with detailed comparisons and explanations. 
If you are making an informed decision about which mat option to choose, this article will serve as a helpful guide. 
The significant differences between Tesla and Weathertech floor mats are their style, fit, material, and price. Weathertech floor mats are designed to fit many vehicles, whereas Tesla mats are custom-made solely for Tesla vehicles. Also, Weathertech floor mats are thicker with a rugged look compared to the sleeker Tesla mats, which are way more expensive. 
I will compare these two-floor mats in this article to help you better decide between them. I will highlight their features and prices to help you make your best choice. 
Are Tesla Floor Mats Better than Weathertech?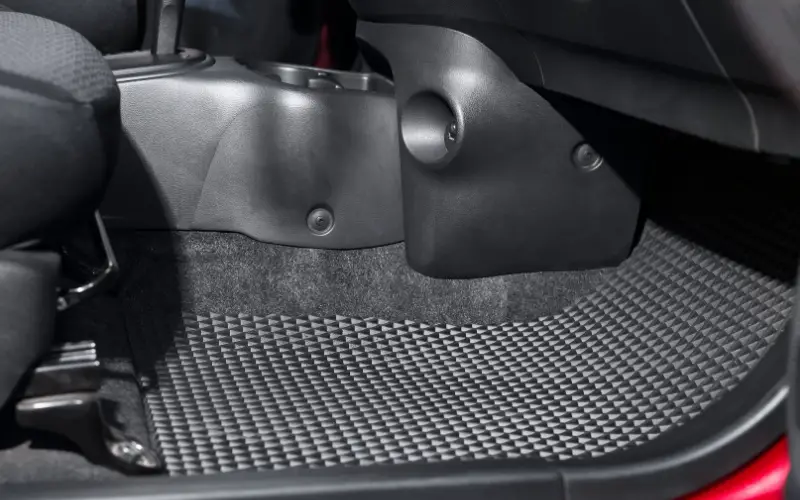 Both floor mats are popular choices among car owners for protecting car interiors and keeping them clean. 
However, each has unique features that distinguish it from the other. 
I will critically analyze each floor mat so you can pick the best option that most suit your needs and decide for yourself which is the better option. 
#1. Tesla Floor Mats
Tesla floor mats are custom-made specifically for Tesla cars only. Tesla floor mats may also differ depending on the Tesla model. 
But overall, all Tesla floor mats are of high quality and durability. A significant difference between Tesla floor mats and Weathertech floor mats is the texture and style of the floor mats. 
Tesla floor mats are thinner, sleeker, and minimalist and appear more stylish than Weathertech floor mats. 
Tesla floor mats are also pricier. However, because they are specially designed for Tesla vehicles, the design accounts for various factors and features unique to Tesla cars. 
Below are a few of the best Tesla Model Y floor mats:
#1. Tesloid Model Y Floor Mat
Tesloid floor mats are one of, if not the best, fitting for Model Y Teslas in the market. They fit perfectly with no curling or gaps. 
They are also easy to clean and moderately priced. The side coverage, however, needs more work and might go lower up the sides than some other floor mat options. 
#2. 3D MAXpider All-Weather Floor Mats
The 3D MAXpider floor mats are popular and frequently discussed on Tesla forums. The 3D MAXpider floor mats have a matte premium look and feel. 
The attention to detail and sleekness is evident. They are also very comfortable and easy to clean. However, 3D MAXpider floor mats also suffer from minimal side coverage. 
#3. Tesmanian Model Y Floor Mats
The Tesmanian Model Y Floor mat is also one of the best-fitting Tesla floor mats and arguably the best side coverage. They are odorless and easy to clean with a minimalist design. 
#2. Weathertech Floor Mats
Weathertech floor mats are for a wide range of vehicles compared to Tesla floor mats which are solely for Tesla vehicles. 
They are made from high-density materials capable of resisting wear and tear while providing a non-slip surface to keep your feet firmly planted. 
One of the benefits of Weathertech's inclusive design line is that they produce a variety of high-quality floor mats in different colors and styles suitable for a wide range of vehicles. 
Weathertech also offers a variety of floor mats, including rubber floor mats, carpet floor mats, and all-weather floor mats. 
Below are a few of the best Weathertech floor mats you can find in the market and their features:
#1. Weathertech AVM Universal Floor Mats:
Deep groves and outer lip to keep the carpet dry and tidy.
Trim lines make it easier to fit your floor better and customize.
Available in gray, black, and tan color varieties. 
Patented MatGrip® retention device and molded nibs prevent slippage.
#2. Weathertech Floor liner HP
It is made with an advanced rubber-like Thermoplastic Elastomer (TPE) compound that won't degrade in extreme weather environments. 
It protects the front, back, side, and bottom of the vehicle's footwell. 
Anti-skid nibs and underside texture keeps the floor mat in place. 
Solid feel
Anti-skid texture and retention systems under the floor mat ensure that it remains without shifting, tilting, or sliding.
 #3. Weathertech All-Weather Floor Mats
Durable and enduring in extreme weather environments. 
Flexible rubber-like material.
Anti-skid nods to secure the floor mat and avoid sliding or shifting. 
It is more work to clean due to thickness. 
Odorless 
They are made with recyclable latex-free material.
Tesla Floor Mats Vs. Weathertech; Which Is More Expensive?
Tesla floor mats are more expensive compared to Weathertech floor mats. The price difference has little to do with quality as it does with a brand name, exclusivity, and luxury. 
Both brands make excellent quality floor mats. 
However, because Tesla makes floor mats for a specific clientele and gives more attention to style, luxury, and detail, the prices are bound to cost more. 
Weathertech, on the other hand, produces floor mats for various cars and car models. The quality and durability of weathertech floor mats are undoubted. 
However, the brand focuses less attention on style and aesthetics. Which in turn helps reduce the cost of sales and production. 
It doesn't mean Weathertech floor mats are cheap; they are comparatively cheaper than Tesla Floor Mats.
Furthermore, if you purchase floor mats directly from WeatherTech, they will cost substantially cheaper than if you buy from a retailer. 
If you want to purchase a set of Tesla floor mats produced by WeatherTech, you could get them cheaper if you buy directly from WeatherTech. 
The floor mats will be the same quality and design as the ones sold by Tesla mat retailers.
Below is a table highlighting various Weathertech and Tesla floor mats alongside their prices: 
| Floor Mat | Price |
| --- | --- |
| WeatherTech Custom fit front Floorliner for Honda Civic (Tan). | 133 US Dollars |
| Maysoo Tesla Model Y Floor Mats | 230 US Dollars |
| WeatherTech Custom-fit Front FloorLiner for Lexus GX470 (Gray)  | 131 US Dollars |
| BHASD Tesla Model Y Floor Mats | 229 US Dollars |
| 3D MAXpider Rubber Floor Mats | 206 US Dollars |
Should I Buy Tesla Floor Mats or Weathertech?
Ultimately the choice between Tesla floor mats and WeatherTech mats comes down to your preference and budget. 
If you prefer custom-fit floor mats with sleek designs that match your Tesla's interior and don't mind paying a premium, then Tesla mats are the better option. 
However, if you want floor mats that can fit a wide range of vehicles, costs less, and is still of superior quality and durability, then WeatherTech floor mats should be your go-to choice. 
Also, when it comes to coverage, WeatherTech floor mats are a much more proven and effective option in that aspect. 
Tesla floor mats also have good coverage, but not like WeatherTech mats. So, if you value perfect-fitting coverages, WeatherTech is the superior option. 
It is important to note that WeatherTech floor mats are thicker and heavier than Tesla floor mats. 
If you like sleek floor mats for easy cleaning, you should opt for Tesla mats instead of WeatherTech. 
Tesla floor mats are minimalist with a clean look. Weathertech floor mats are rugged and have a more utilitarian look. 
Whichever option you buy between both brands, ensure it meets your car interior needs and budget.
Which Other Floor Mat Models Are Okay for Teslas?
There are various other floor mat options you can try out that are okay for Teslas.
Below are a few of them and their features:
#1. TUROAZ All-Weather Floor Mats
TUROAZ floor mats are compatible with Tesla Model 3 2023, 2022-2017. They are lightweight and straightforward to install.
Below are additional key features of TUROAZ floor mats:
All-weather protection that prevents dirt from getting under the foot carpet and waterproof capabilities to keep moisture out. 
It has a multilayered exterior, where the first layer is high-quality Thermoplastic rubber that serves as a flame retardant and is waterproof.
#2. TOUGHPRO Floor Mats
TOUGHPRO Floor Mats are also compatible with Tesla Model 3 vehicles. They are Custom fit and perfectly designed to withstand the harshest weather conditions. 
Below are other key features of TOUGHPRO Floor mats:
Non-skid molded nibs backing and mat anchors for additional safety.
It features an edge-to-edge mat design for maximum coverage and protection.
Available in black and gray colors
They are easy to clean and low maintenance. High capacity captures
Computerized Cut Systems with 3D scan patterns can be well-tailored to suit customer requirements.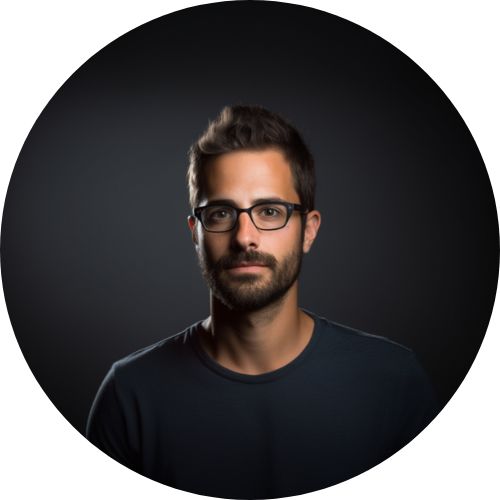 Hey, I'm Michael Davis, a 35-year-old with a degree and a love for cars and tech. Since I was a kid, cars have been my thing—so much that I even thought they ran on magic beans! Fast forward, and I've built Vehicle Army, your one-stop-shop for easy-to-understand car facts.